If you haven't grabbed it yet, the new weekly schedule can be found by clicking to see Full Story & Pictures and then the following link; ShowSchedules
Merry Christmas! Most of this week will be Christmas shows including some new to the channel offerings from Jack Benny, The Life Of Riley, Phil Harris & Alice Faye, Dennis Day Show and traditional holiday offerings from Norman Corwin (The Plot To Overthrow Christmas); The Campbell Playhouse (A Christmas Carol with Orson Welles); Lux Radio Theater's (It's A Wonderful Life); The Five Part Yours Truly Johnny Dollar Christmas Storyline (The Nick Shurn Matter) and many more.
Released last week in time for Christmas my inaugural collection of my personal favorite radio shows.  Radio Classics Selected By Greg Bell is a 10 CD collection with my introductions and wrap-ups just like I do on my satellite and regular radio shows. And while it does not include everything I love on the channel,  it offers up a good mix of genres with many episodes that have never aired before on either of my shows. I also wrote the companion booklet which is peppered with some great photos of radio stars.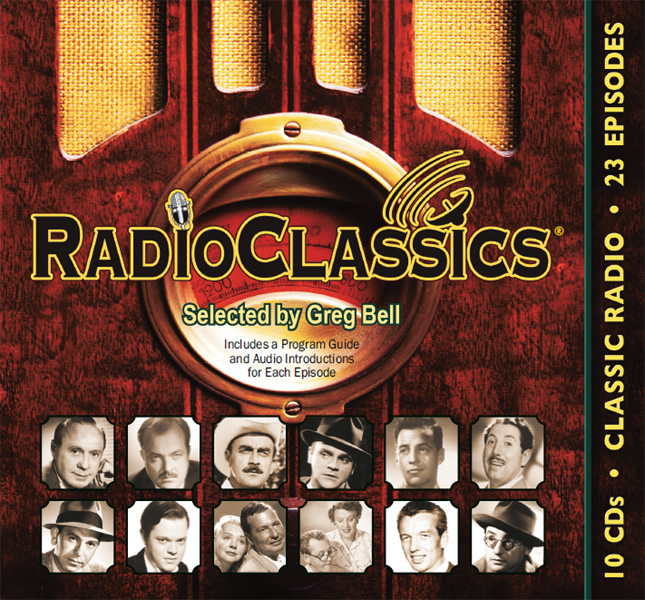 Also remember we are still looking for folks to join us on the Radio Spirits Old-Time Radio Cruise departing June 22nd 2013 from the New York City area for Bermuda for a 5-day cruise which will include many classic radio themed events including live on stage re-creations. Cabin are available and you can learn more at this link http://www.cruisingwithgregbell.com/
Greg